GLW TECHNOLOGIES
SCROLL DOWN
---
Seeing is Believing
Ortholucent Implants
GLW Ortholucent Technology Platform combines the strength of titanium with a unique blend of polyetheretherketone (PEEK) / carbon fiber reinforced,
a radiolucent polymer. This proprietary process of combining materials allows for skeletal visualization and has the potential for promoting fracture healing.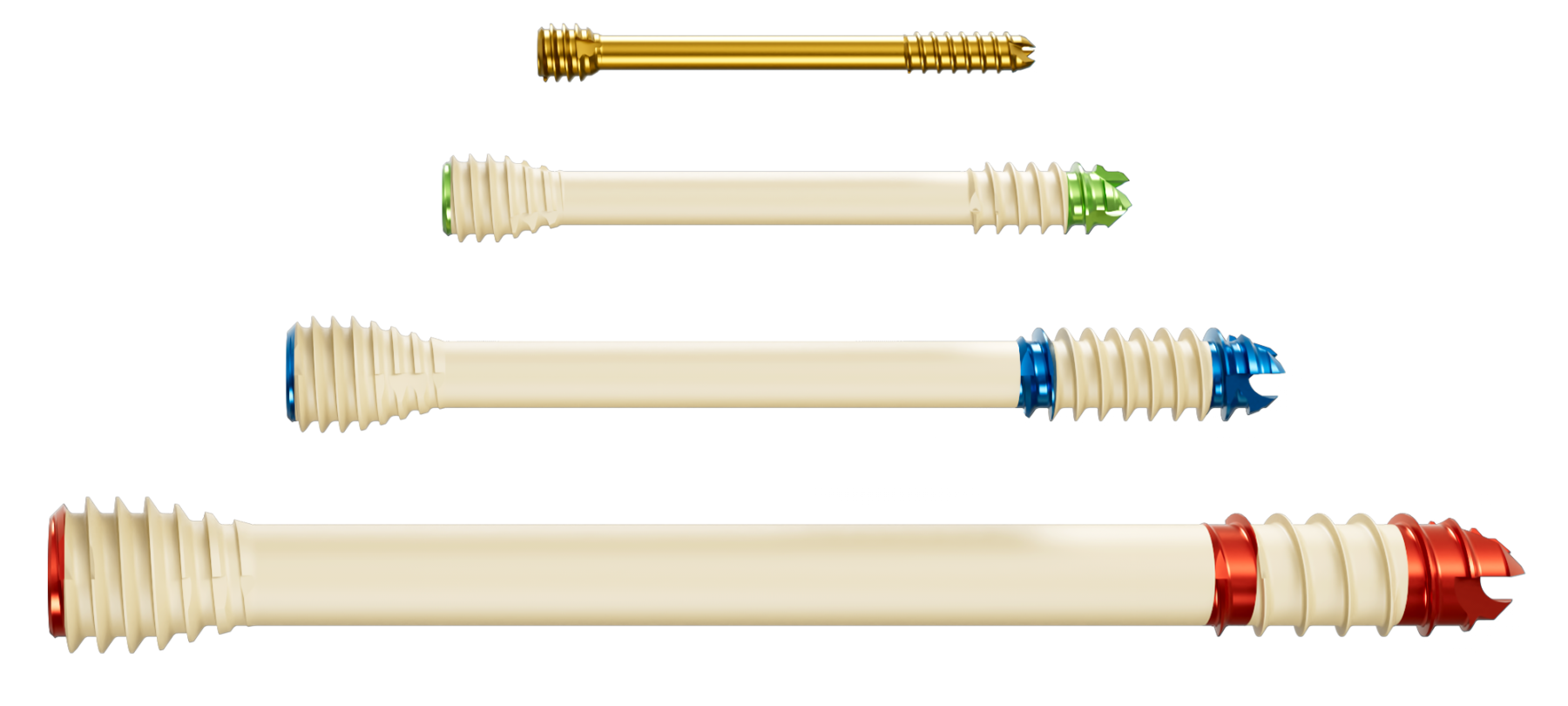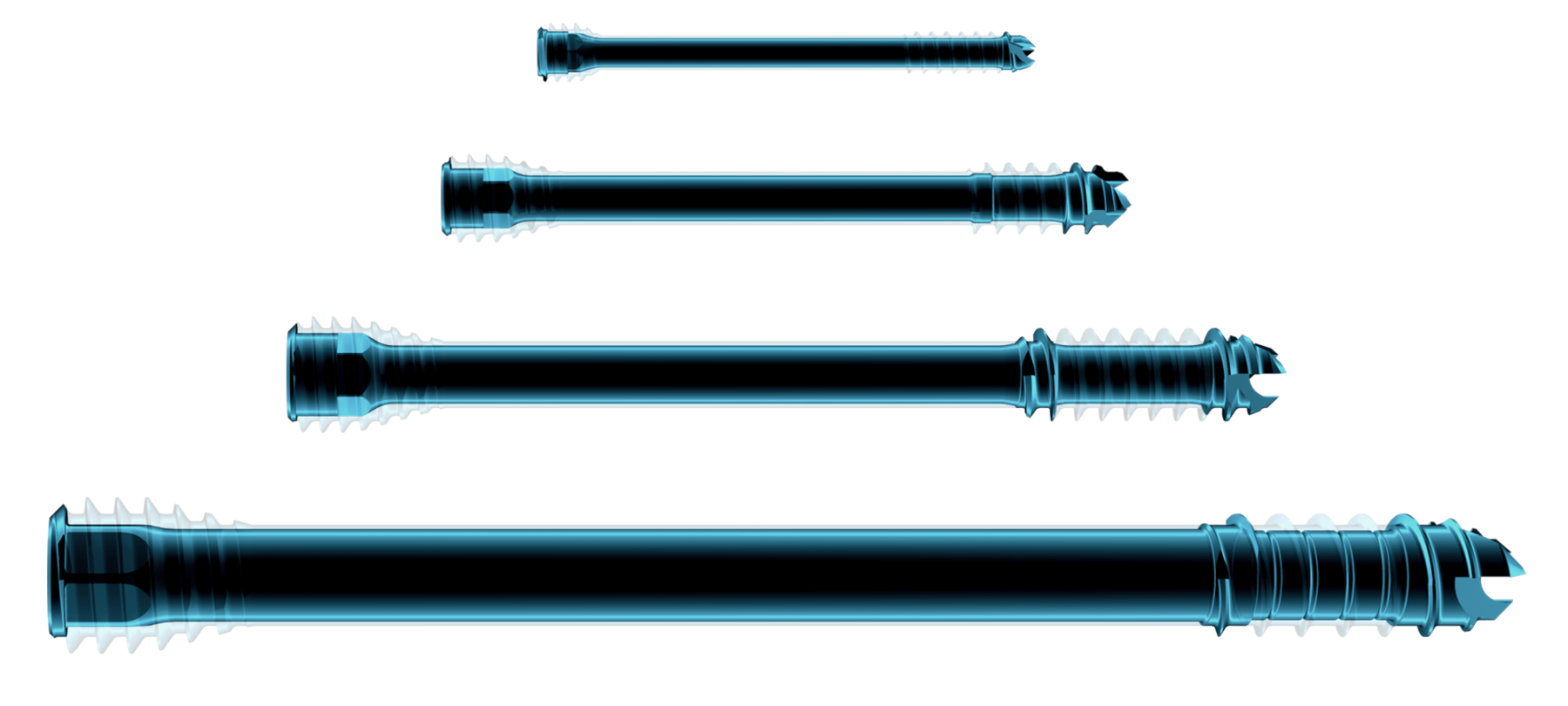 Clinical Benefits

Comparable strength to conventional metal implants, thanks to the combination of a thin titanium core and a PEEK / carbon fiber
reinforced polymer.

Allows for better visualization of bones and joints
on X-rays and other imaging techniques, which can help surgeons assess fracture reduction and post-
operative healing.

Less interference / scatter with advanced imaging techniques, such as MRI or CT scan, due to their lower metal content.

---
Revolutionizing Medical Implant
and Instrument Production
Additive Manufacturing
This NEW technological advancement is made possible by the transition from analog to digital processes. Additive manufacturing (3D printing) can bring digital flexibility and efficiency to manufacturing operations.
GLW additive manufacturing uses data computer-aided-design (CAD) software or 3D object scanners to direct hardware to deposit material in precise geometric shapes. As its name implies, additive manufacturing adds material layer upon layer to create an object. By contrast, when you create an object by traditional means, it is often necessary to waste material by removing it through milling, machining, shaping or other means.
Additive manufacturing delivers a perfect trifecta of improved performance, complex geometries and simplified fabrication. GLW uses 3D printing to create unique profile thin-walled titanium structures for our ortholucent technology applications. Any complex anatomical structure can be built at no additional cost. Smoother edges and anatomical matching minimize soft tissue irritation. Economic use of materials minimizes waste and cost.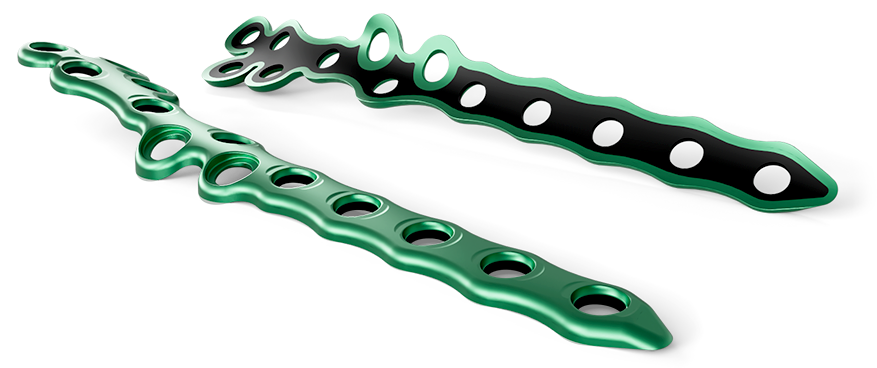 ---
Hybrid Materials
and Manufacturing
The lower titanium load which is reinforced by PEEK (polyetheretherketone) provides clear bone visibility during plain radiography as well as less scatter with advanced imaging techniques. Improved visualization enables the clinician to interpret bone healing with greater confidence leading to faster advancement of recovery protocols.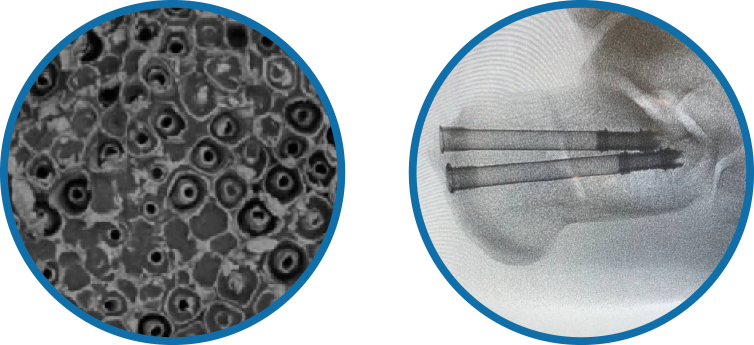 Reinforced PEEK overmold

Titanium core ring markings to identify where threads begin

Visualization of bones and joint spaces
Priopietry Ti / PEEK bonding
PEEK engages with a proprietary titanium micro-structure.
The bond is stronger than PEEK (the shear strength is equivalent to PEEK strength).
Injection Molding
High temperature and pressure of injection molding process ensures complete integrated bond between PEEK and titanium. Economic use of PEEK minimizes waste and cost.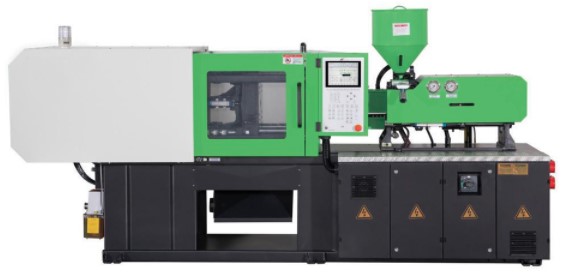 Zero Waste
Our process is environmentally green.
Using proprietary additive manufacturing (3D printing) and injection molding process we are able to produce zero waste manufacturing.
---
Patented Technology
Backed by years of scientific research and development, GLW proprietary additive manufacturing (3D printing) and injection molding processes have produced compelling economics and cost effective manufacturing.
First 3D printed plates FDA (510K) cleared
to be manufactured at scale
---
Variable Angle Locking
Patented PEEKLOC™
Locking Screw Technology
The unique PEEKLOC™ low-profile hybrid plate-screw interface design with multidirectional locking, facilitates direct fracture fragment fixation, and exact screw placement at 1.5 – 2.5 Nm range of torque locking in the plate hole. Unlike other variable angle locking systems, the PEEKLOC™ locking technology works by using the same grade of titanium alloy (Ti6Al4V) for both plate and locking screws. The PEEK reinforced underside of the plate creates elastic friction for locking the screw and mount below the plate surface where even angled screws can remain flush to the plate. Additive manufactured titanium and injection molded PEEK plate construction makes PEEKLOC™ resilient and forgiving.
Clinical Benefits

No cold welding between plate and screws.

Screws can pivot freely by ± 15° in all directions for optimal positioning.

Self-countersinking adds more depth below the plate for a flush mounted screw and 2 mm deep engagement for the T15 driver.